CULTURE CENTER, ANTWERP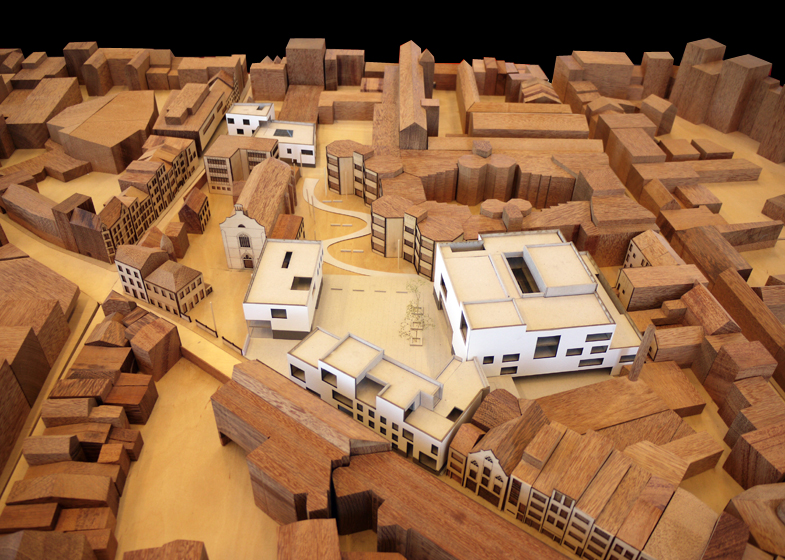 Thesis
The purpose is to negotiate with existing architectures and to examinate of current practices of dealing with the historic ensemble. Any architectural intervention is an extension of the stories that are already told by the existing buildings. The question is how this could be done with some subtlety, not by showing the contemporaneity of the new design by means of expressively advanced technology, but by finding architectural solutions that resonate with what is already there.
Site
University district, the Centrum of Antwerp
Program
culture center and swimming pool for Antwerp University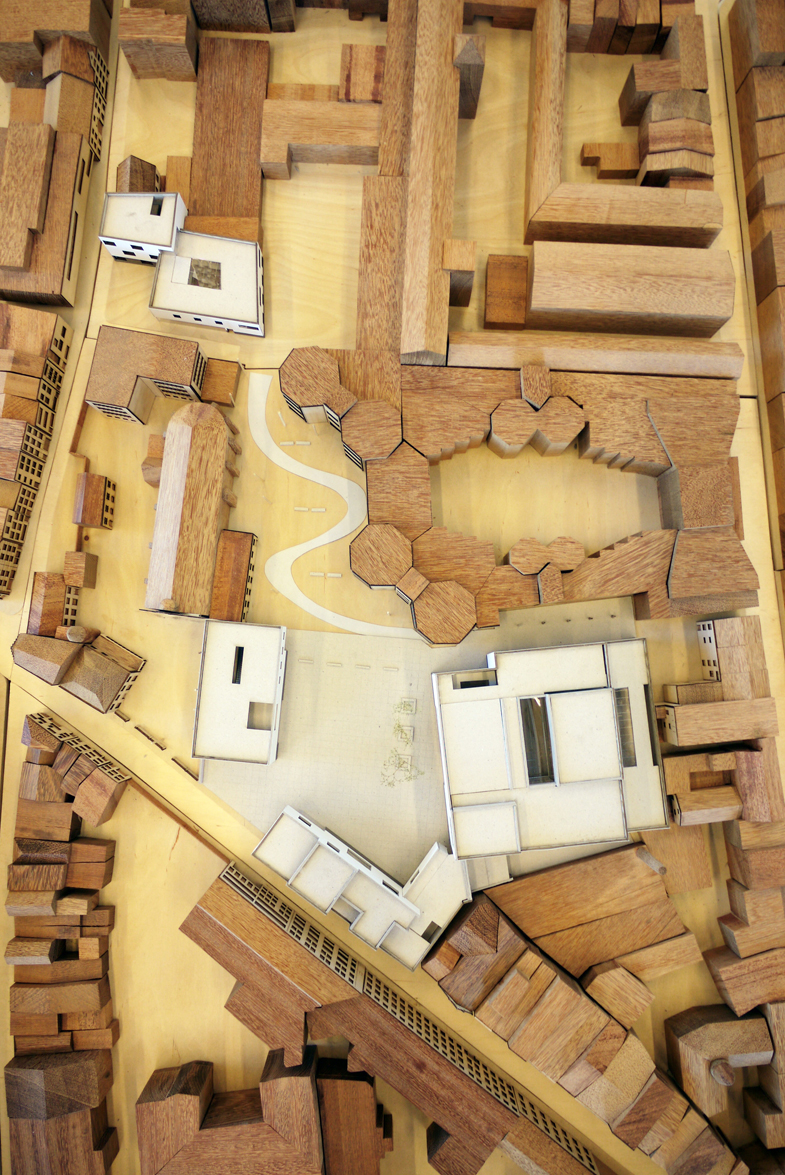 Two urban design strategies
Traditional city blocks in Belgium have various void spaces which are composed of courtyards, parking lot, and alleys in the process of modernization  These porosities can be regarded as the most important character of city blocks in the historic city, and contribute to create a unique inside world. From this context, the goal of this urban project is to respect an existing character of original city block and to reproduce in a new way. To achieve this goal, two urban strategies are introduced. One is to design a series of courtyards in order to bring new public spaces into the site. The other is to introduce new buildings that corporate with the surrounding buildings.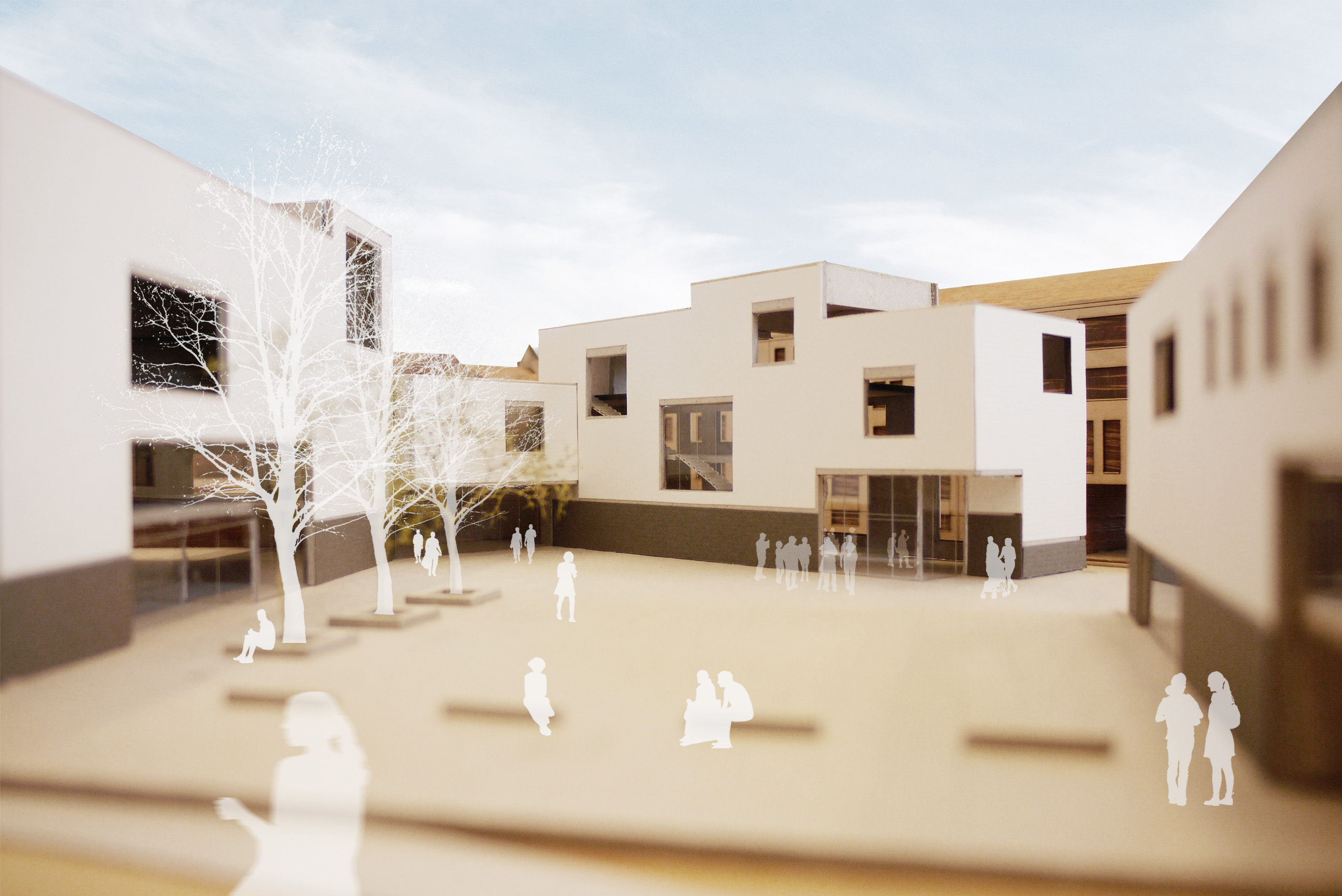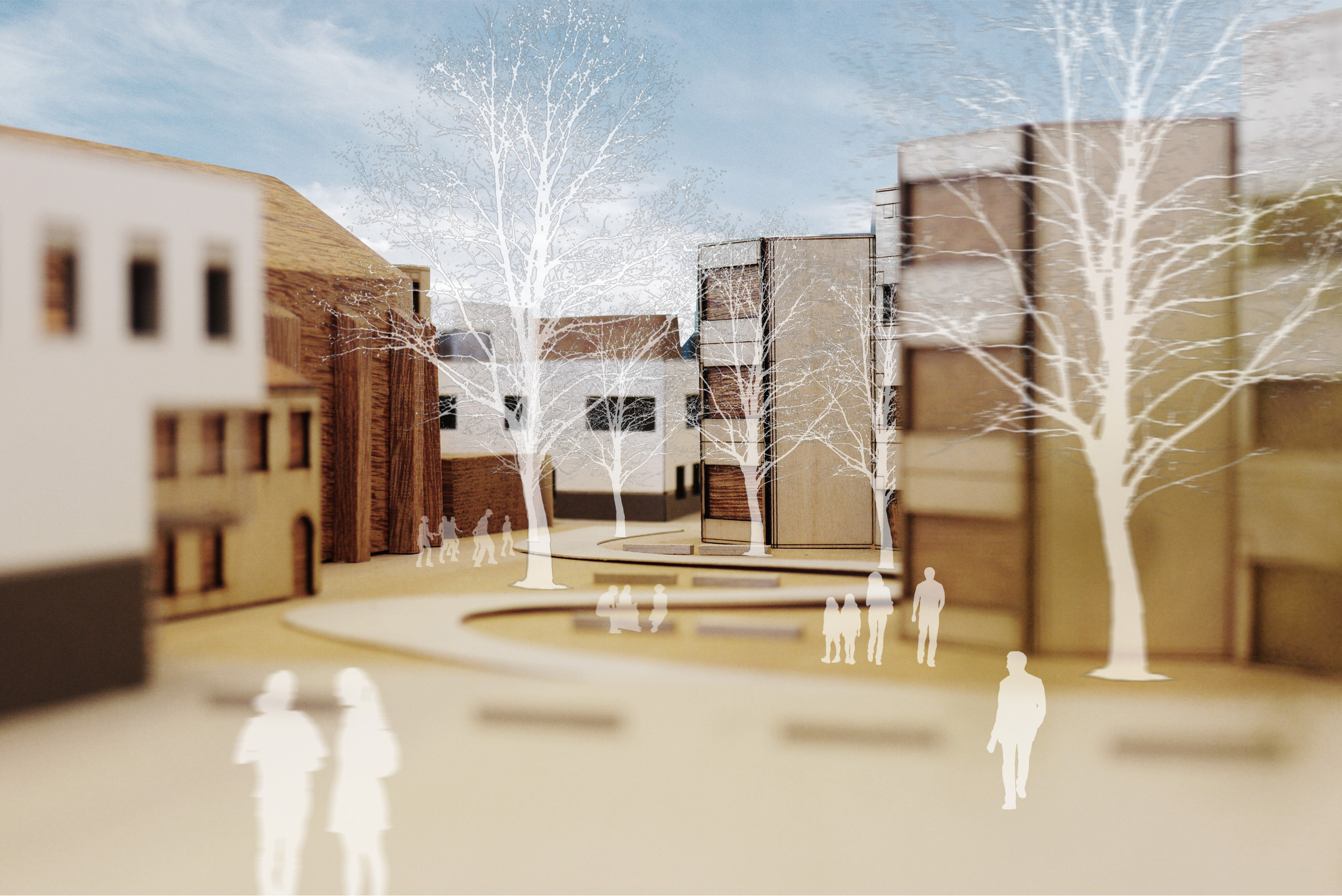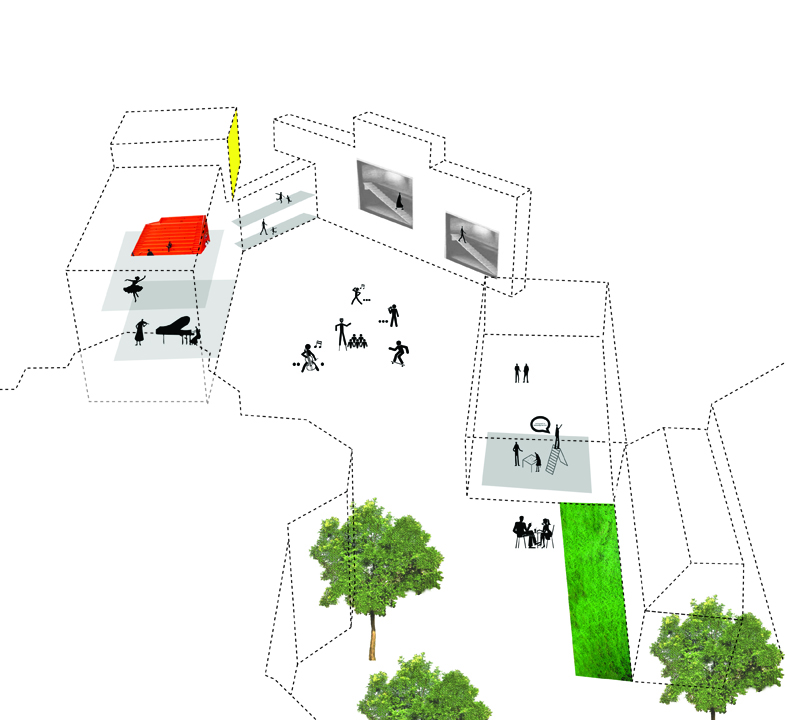 Two types of courtyards
In the site block, two types of courtyards were introduced in order to create a series of outdoor public spaces.
One is the formal courtyard surrounded by a series of public spaces to have the public spaces upfront to the new courtyard connect each building and activate the public area. Also, it is designed to held outdoor events of the culture center and composed with three components – tree, street furniture, and pavement.
The other is the informal courtyard including existing trees and green. It provides the rest area to the building complex with the abundant of trees and benches under the trees. People are led to another building(student center) of this complex following to the curved pedestrian path.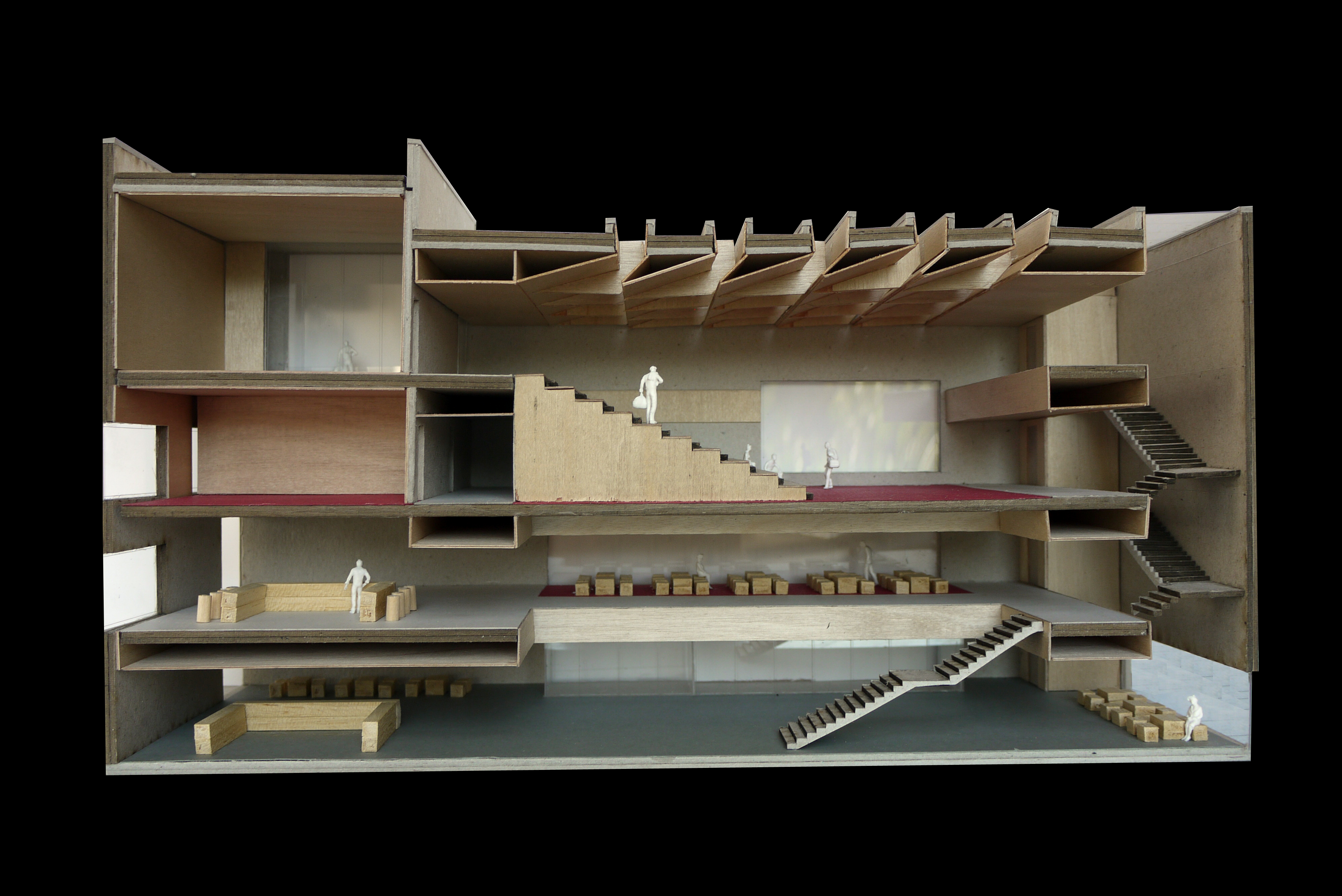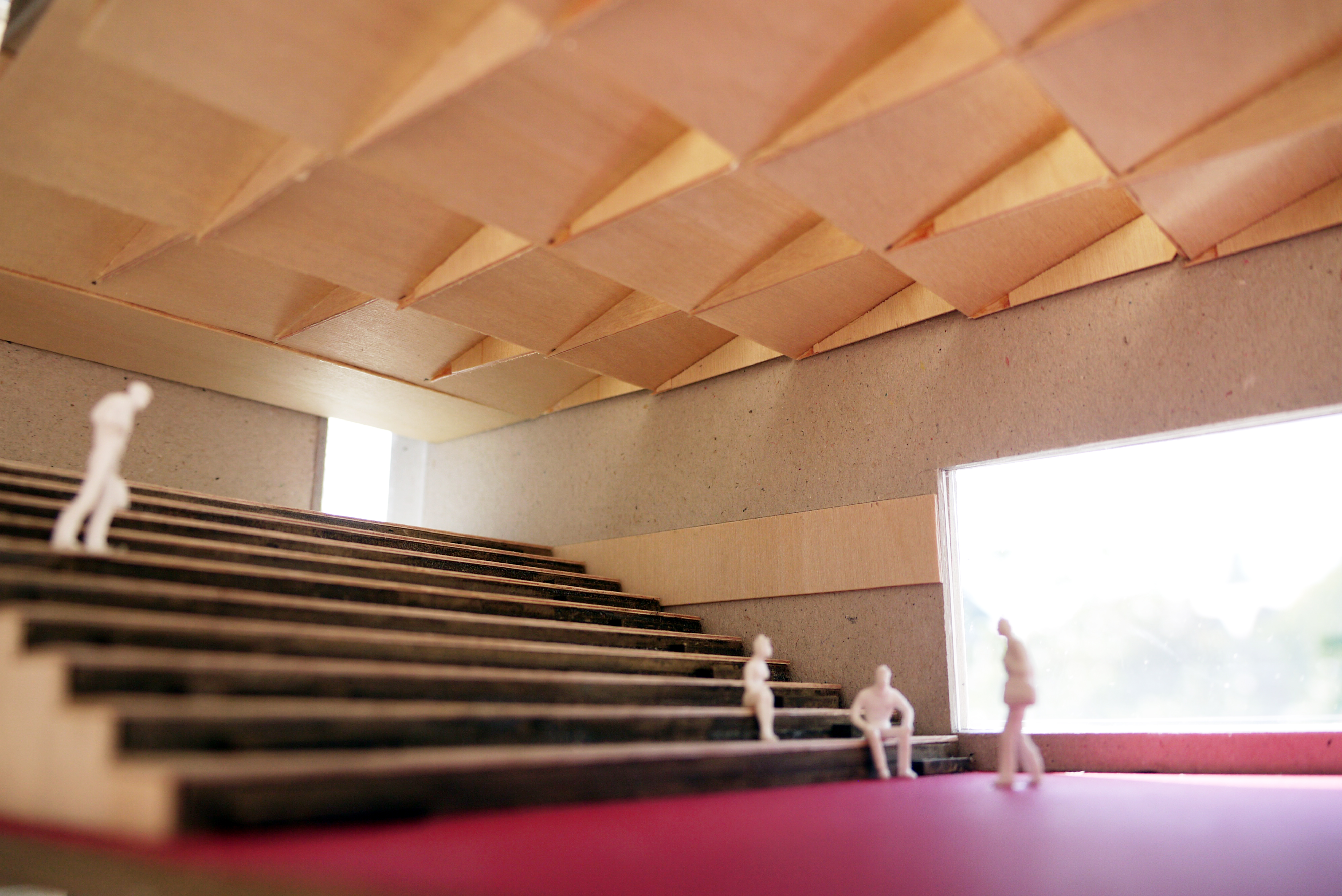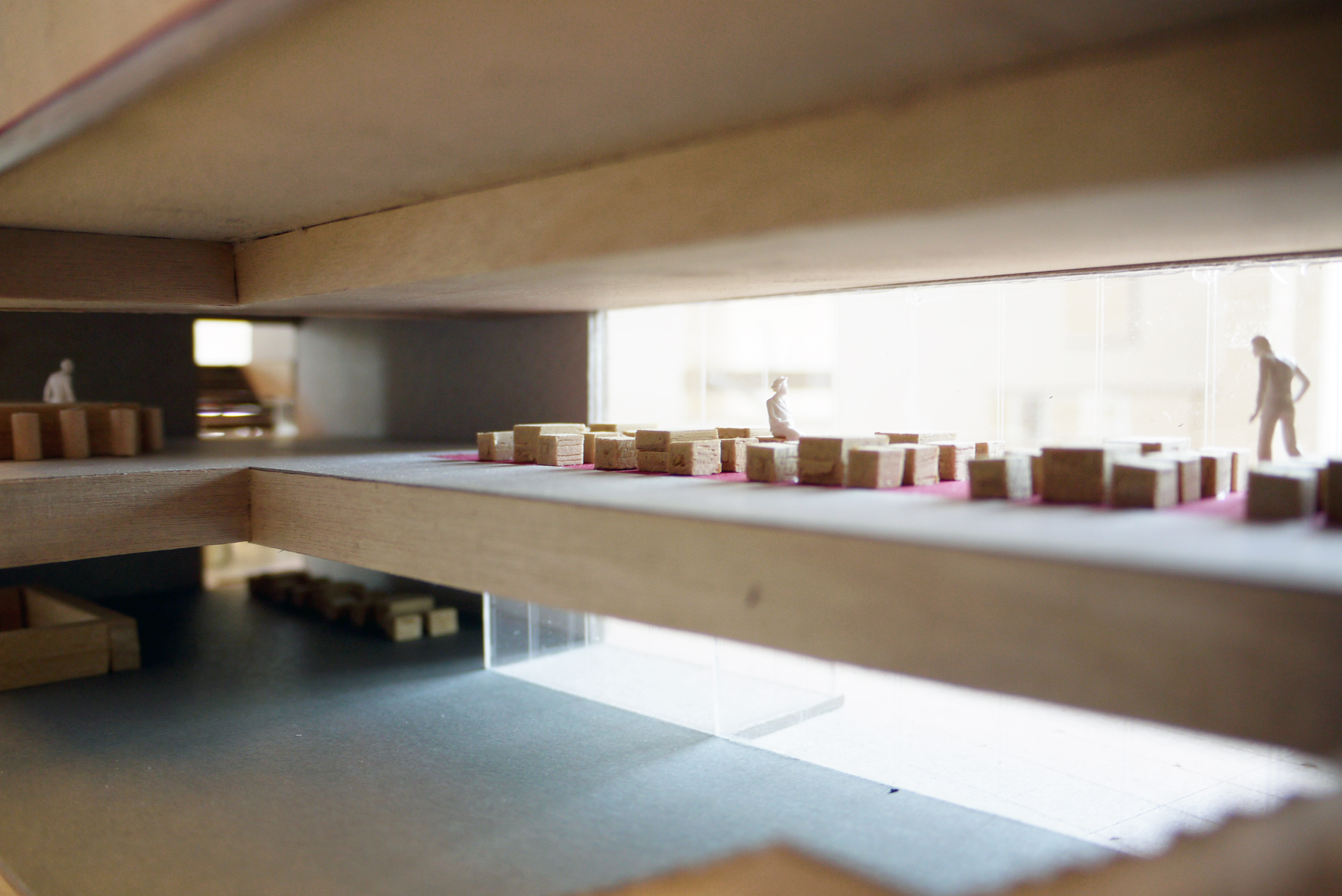 Interior material coding
Interior materials were coded by the characters of space, public and private. By this usage of material, public area and private area are seperated naturally, and people are supposed to feel the change of the characters of each space.
In the public area, natural and bare materials were used without finishes. For example, wooden panel was used for ceiling of corridor, loadbearing wall was not covered, concrete masonry units was applied to interior wall, polished concrete screed is for circulation floor, and natural stone was for groundfloor.
Also, the private area such as studio, office and general rooms, were covered with second layers for better usage of that space. Ceiling and wall are finished with acoustic wooden panel or zypsum board, and floor is with wooden deck, vynil sheet or carpet. By doing this, each rooms can get its own high capacity for program of it.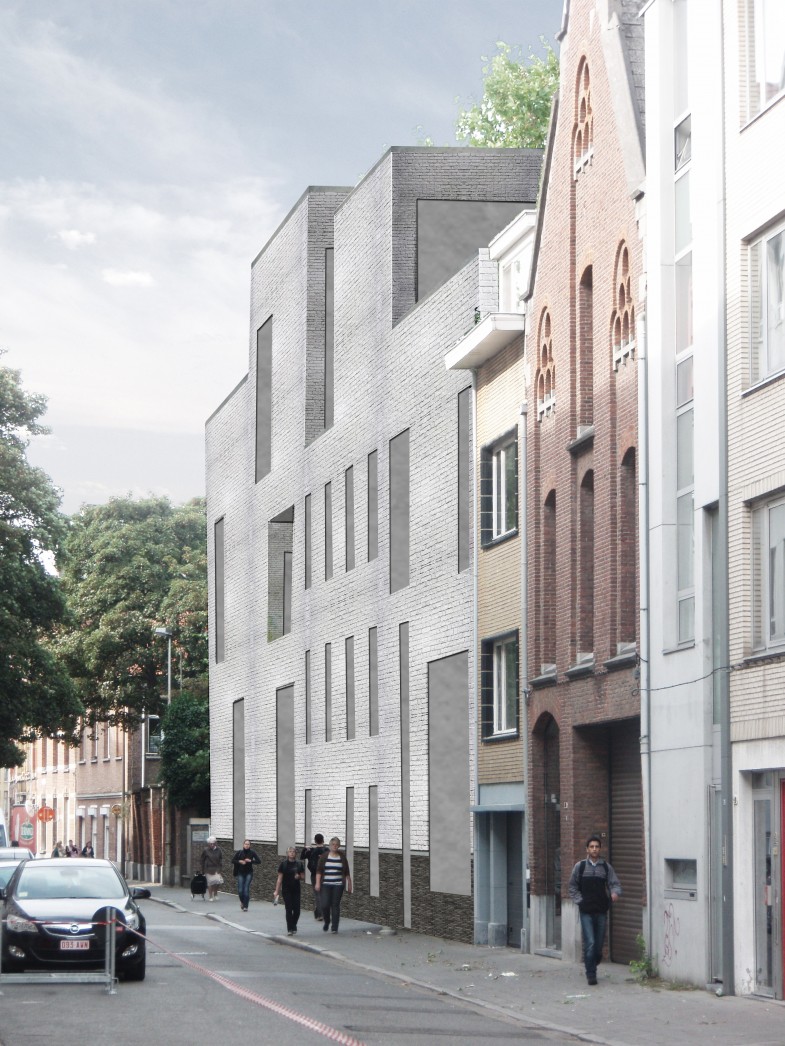 Facade
Facade of the building complex was coded according to two zones. One is the facade facing to the formal courtyard, and the other is the rest of parts of facade. It is intended to make big difference between inside and outside of building complex. Through this change of facade, when people come into the formal courtyard, they are supposed to feel that they stand in the city block.
Facade enclosing the formal courtyard three components which differ to other facade. One is a three meters height of plinth which is composed of dark grey brickworks and lining of precasted concrete bar. The second is pocket space for foyer and arcade. And, the last is indented windows. These three elements contribute to make the courtyard as a outside room.
In other hand, outside facade has a one meter height of plinth and different scales of flushing windows. These make people feel this building is exclusive.