CITY OF THE BLIND NO.1 – VILLA SAVOYE
Collaborated with Dong-Hyun, Moon
A-Gene-Da Group 1st Exhibition
(Architectural GENEmorphosis DAdaism, a designers' group in the Architecture College, Korea University)
Address : Baum Gallery, Insa-Dong, Jongno-Gu, Seoul
Date : Nov. 9, 2007 ~ Nov. 15, 2007
Title : Mirror Ball
Objective: The main theme of the exhibition was "to bridge art and architecture". Each project is rather focused on expressing architectural imaginations related to different social issues than on completing an architecture from start to finish. Inspired by a novel, <Blindness> written by Jose Saramago in 1979, City of The Blind No.1 – Villa Savoye premises an extreme situation of a city where one day everyone goes blind. How should architecture react to the people with lost sense of sight? In order to provide opportunities to explore the surroundings with using only the rest of the senses, character boxes are set up within which different materials for each sense other than that of sight are put it.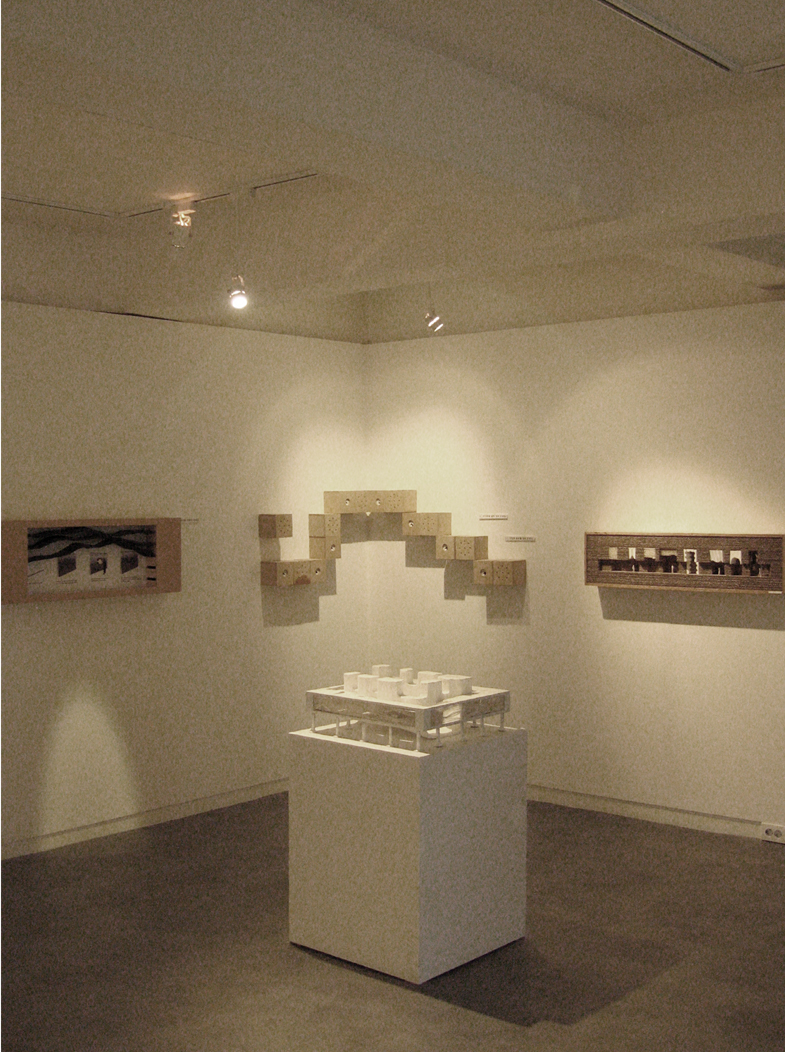 Starting Idea
What should a space become when there is no sense of sight? Instead of having a blind person adjust him or herself to an ordinary surrounding, a new house is aimed to fit and welcome specific users. The architecture intends to provide friendly guides and help for people with no visionary sense. The given site is Villa Savoye, whose important architectural tenets are to be reinterpreted and applied to a new house.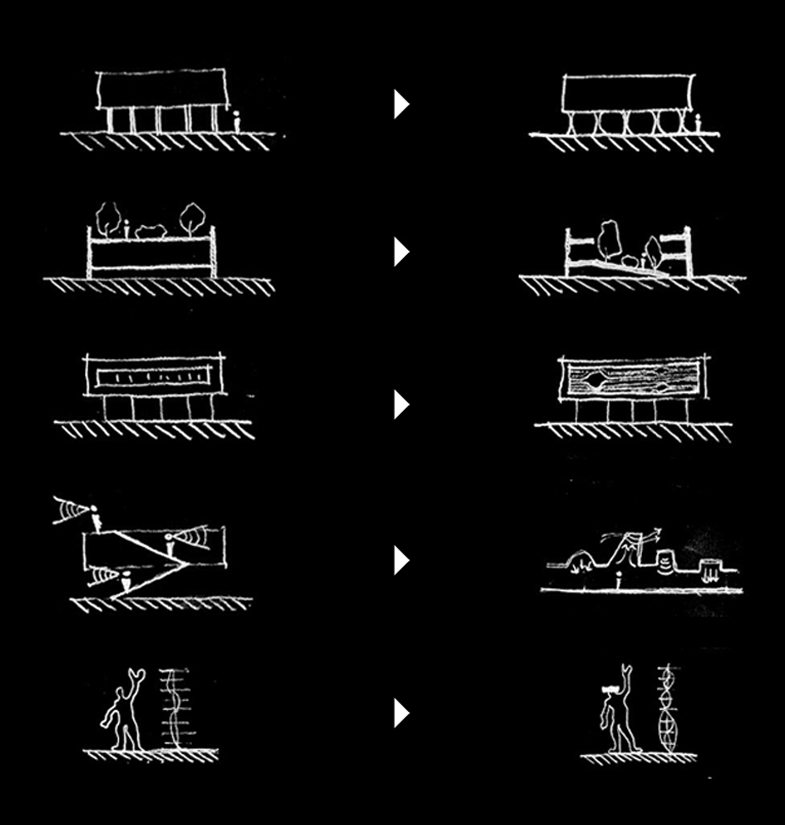 Strategy
As known as one of the major masterpieces presenting the international style in the beginning of 20th century, villa Savoye addresses "The Five Points" of Corbusier's basic tenets of new architecture. Considering the users' absent sense of sight, each point and issue are analyzed and transformed as below;
1. The Plotis > A pilotis with a curved foot that extends into a floor
2. A Flat Roof Terrace >  A terrace-ramp that continues between floors
3. The Freely-Designed Façade and Horizontal Windows > A free-elevation that changes its form and creates openings according to users' needs
4. The Spatial Promenade >  An undulating walkway that provides forewarnings for changes and moves in the space
5. The furniture > A furniture-wall where boundary is not border but part of it.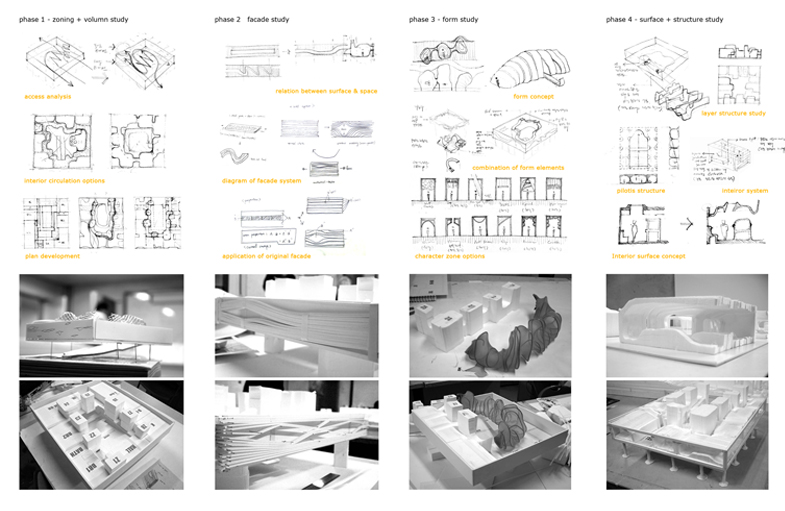 study process with sketch and modeling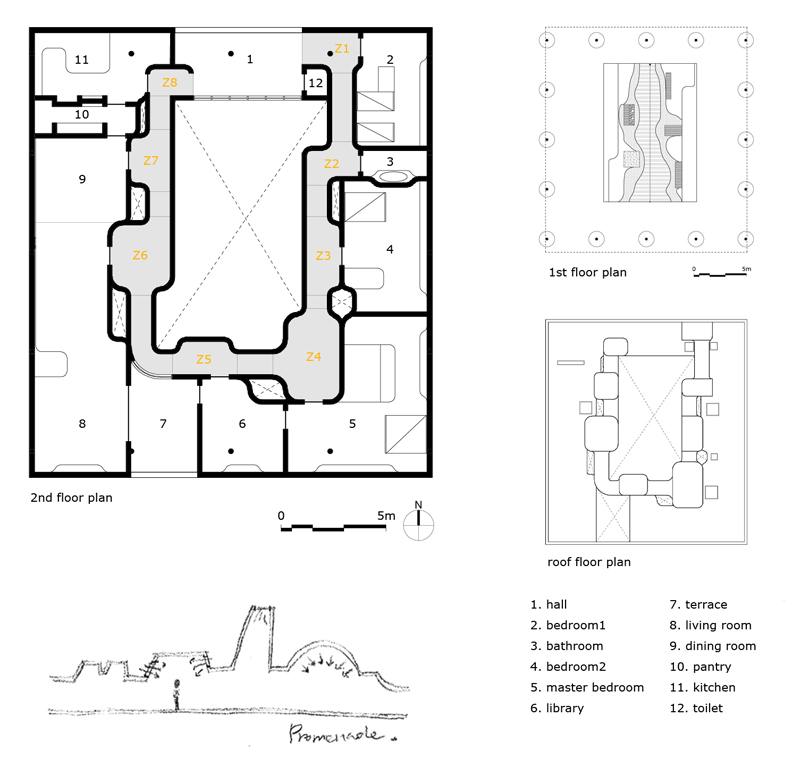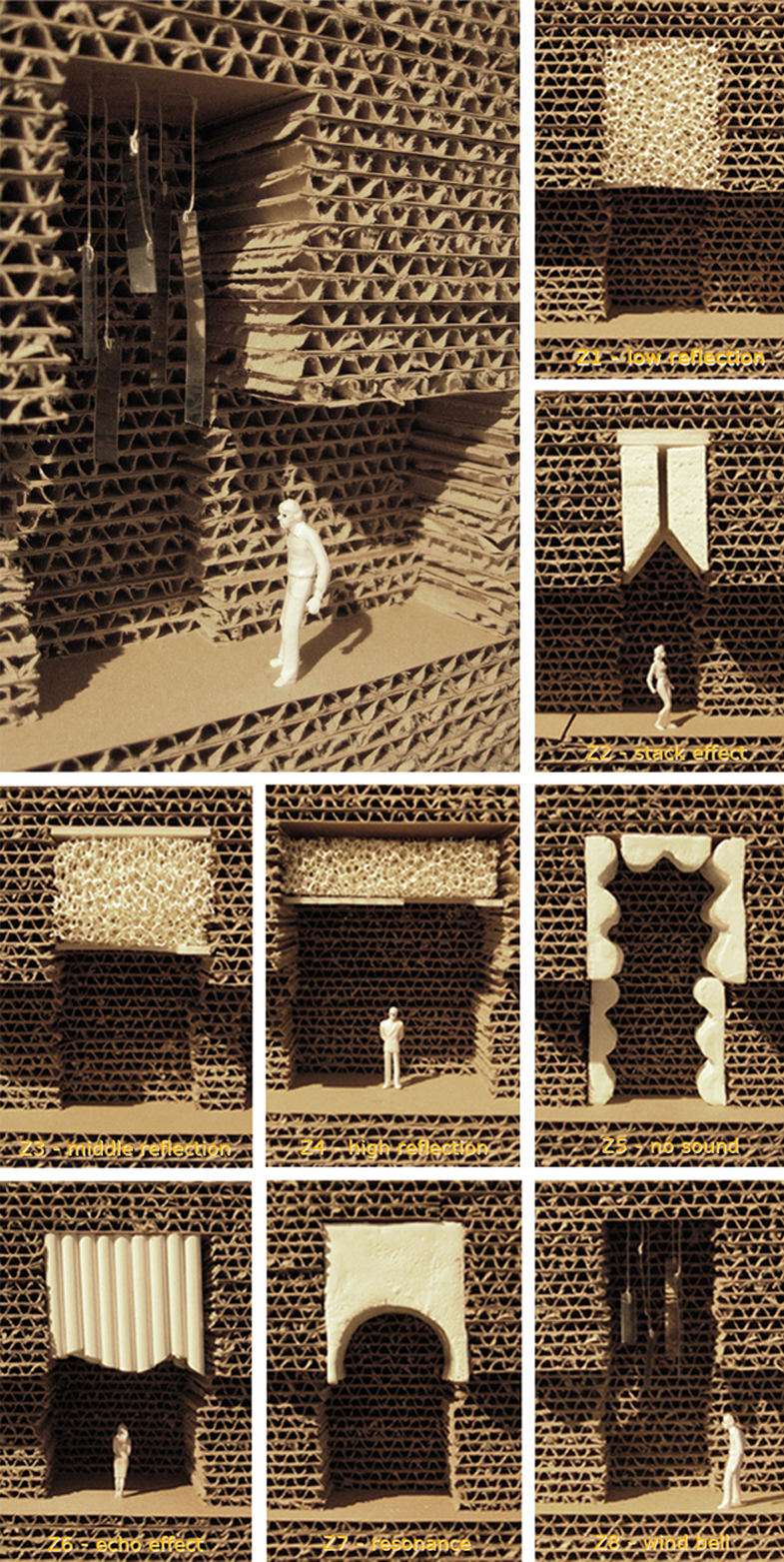 Spatial promenade
Along the five elements in the Villa Savoye, the spatial promenade is as well considered to be an important architectural tenet, which is a planning and construction tool for users to appreciate and enjoy the changing views inside the house. What should a walkway become when there is no sense of sight? Here a Spatial Promenade is recreated in the corridor for dwellers to enjoy the space as much as possible with the all the other senses. Each part along the path on the promenade provides unique signs for spaces approaching. For example, when one is coming close to a bathroom, she or he would feel changes of air flow caused by a stack effect. The clear ceiling height of 5.5 m reflects the proportion of existing Villa Savoye, which emphasizes the different characters and uses of each room even more.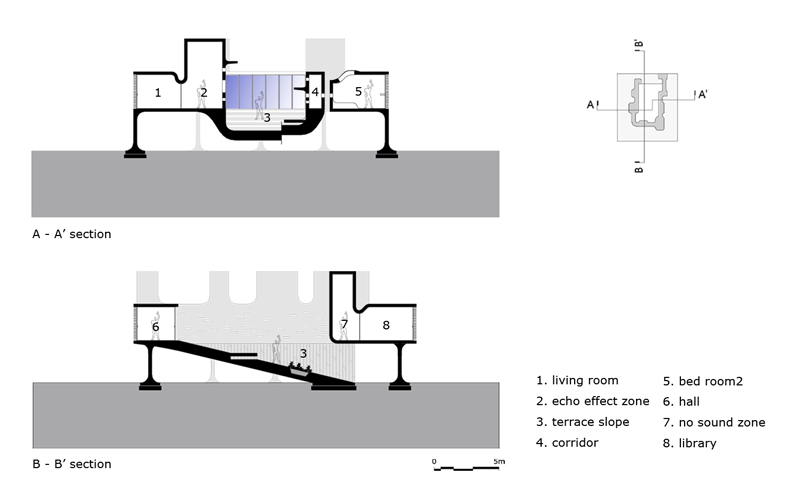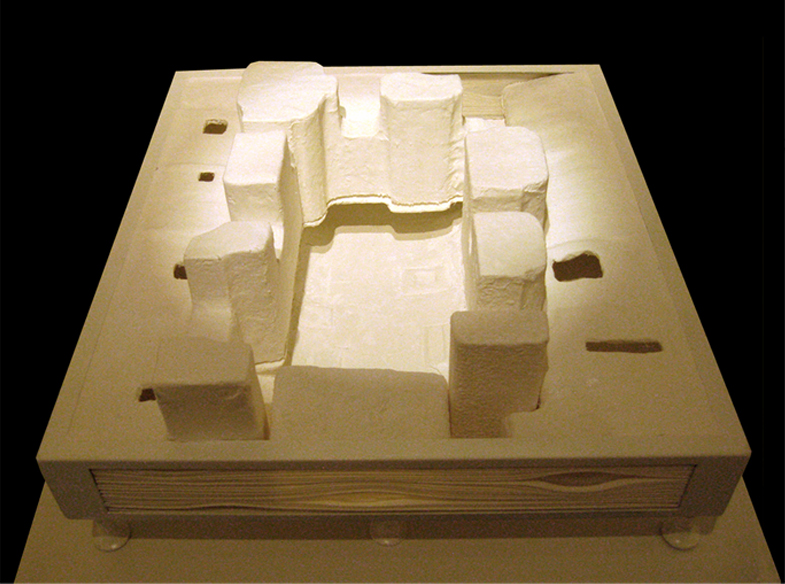 Terrace Roof
The terrace roof is brought down and into the center of the house to serve vertical circulation between floors. With a gradual slope and a larger width, the walkway becomes a terrace ramp that houses planters and benches for the users.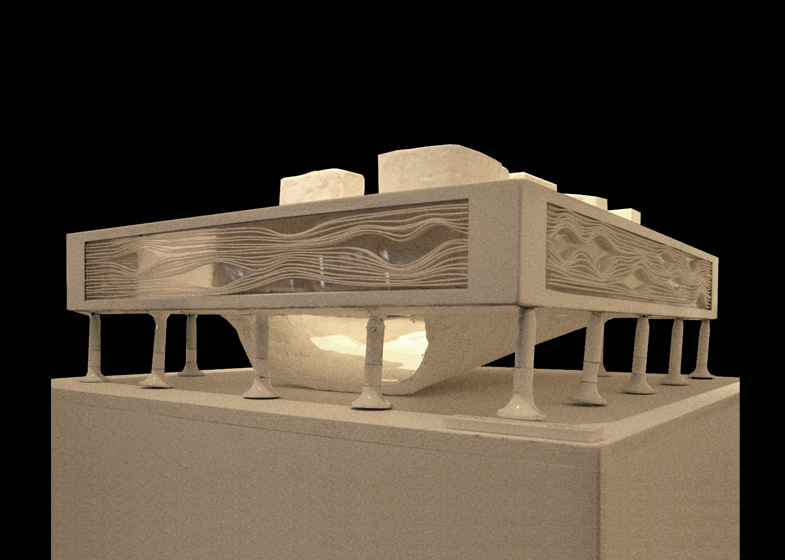 The Piloti
Originally designed to elevate the building from the earth and let a garden flow below, pilotis are now transformed to extend to the floor. The diameter of the spreading foot at its bottom is 75 cm which equals to an average width of an adult's stride. This subtle up-rise on the floor around a piloti allows a person to know that a vertical object is approaching. As these gradual stretches on the floor continue, a new space, promenade, is created between pilotis in a resemblance of a way-finding system in a city, only scaled down to fit into a residential space.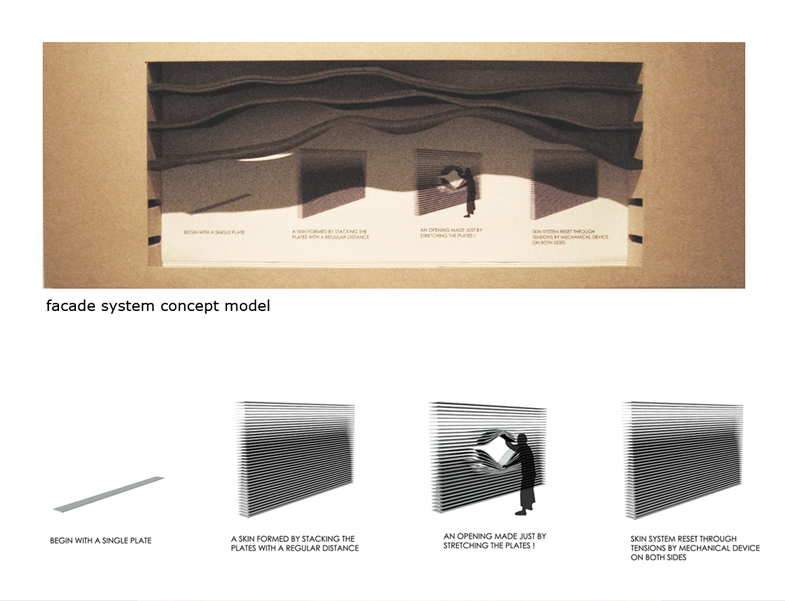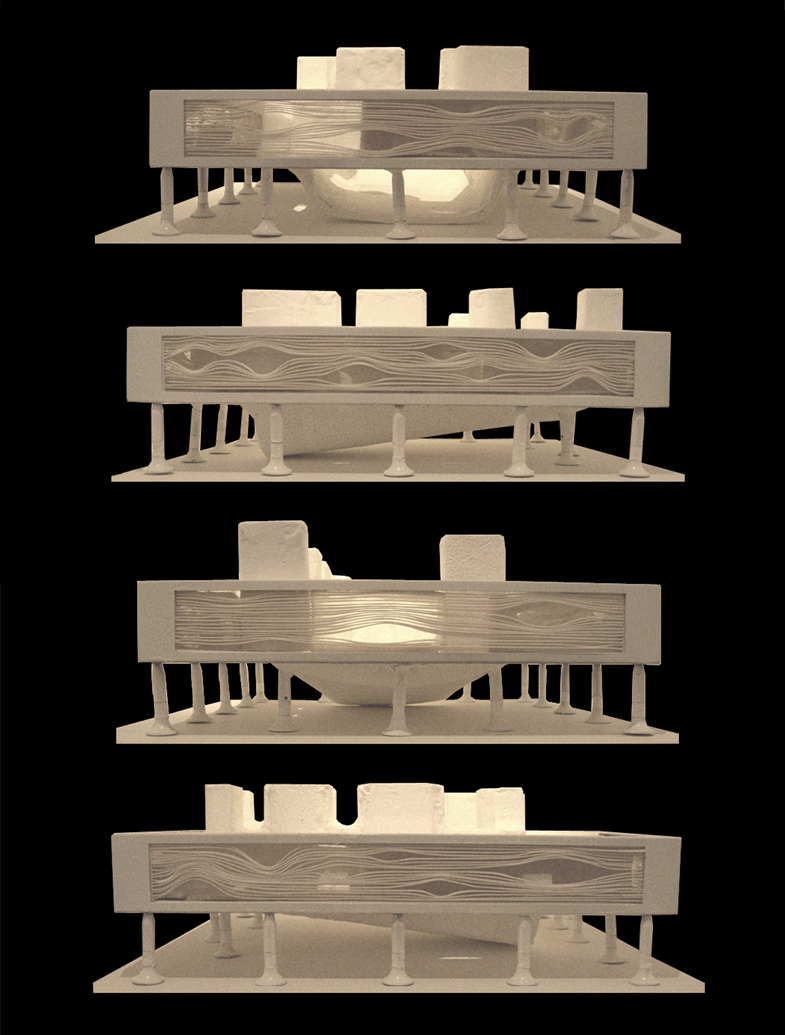 The free facade
Openings and the surrounding walls made of poly-plate that contains shape-memory alloys have a tendency to remember and return to its former condition. This elevation system allows the user to decide shapes and sizes of openings according to their needs and hopes. Once an opening is set, it stays as it is until any further manipulation is generated. The elevation can be reset to its initial condition by stimulating heat and electricity on the control system. Advantage of this elevation system for the users is that they can create an opening and maximize its uses regardless of changing views unseen. This supple elevation achieves a new form of the "free facade".